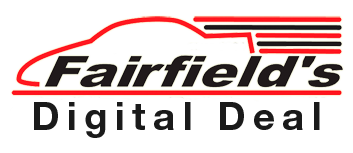 Customize my payment
We know it all comes down to an affordable monthly payment. Fairfield's Digital Deal accounts for all the factors that affect that - your desired loan or lease terms, special incentives, the value of a trade-in, and opting for a vehicle protection plan. Trust the monthly payment you see is what you'll actually pay.
My financing options
Will you qualify for the vehicle you've now customized payments for? With Fairfield's Digital Deal, there's no guessing. Get lender approval for your purchase by securely applying for credit from home. A few minutes online will save you from waiting with anticipation in our showroom.
Prepare for my visit
Select a date and time for a test drive at our dealership that works best for you. If you'd like, a sales team member can also perform a virtual vehicle walkthrough of the vehicle so you can set eyes on it before visiting us. Additionally, Fairfield's Digital Deal allows you to reserve the vehicle if you want us to hold it until you arrive.
If you prefer not to visit the dealership at all, we'll deliver any purchased or leased vehicle directly to your home or business and finalize your deal there.