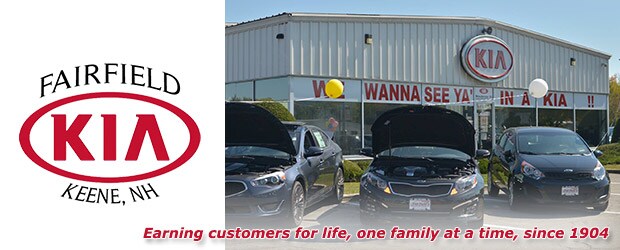 Professional and friendly customer service is at the core of any successful car dealership. The fact of the matter is, without our customers, the dealership simply cannot exist. And any business that wants to continue to grow will happily accept the necessary concept of providing top-notch customer service.
There isn't anything more gratifying to our dealership than providing the type of quality service that meets the needs of our customers. And Fairfield Kia is proud to know that so many of you have taken the opportunity to share your experiences. Our team goes above and beyond what's expected, and it's exciting to know that our efforts have made a difference in so many meaningful ways. You can read what our customers are saying by visiting our Customer Reviews page.
As a premier Kia dealership in Keene, we know how essential it is to have a well-stocked inventory for our customers. However, more importantly, we know that the buying experience is beneficial and helpful to each customer, as well as the experience that is received through our service department. Although we know there are always areas for improvement, which we strive for every day, the online reviews that have been received from satisfied customers lets us know we're headed in the right direction. And, if you're one of them, we're sincerely grateful to you for taking the time to express your thoughts through a review.
Our dealership has a strong commitment to the community for providing a team of professionals who are completely entuned to your car buying needs. If you've been able to experience our environment, then you already know that it's one that we take very seriously for creating an atmosphere that is friendly, courteous and welcoming!
However, if you haven't had the opportunity to visit, we welcome you to stop by our state-of-the-art showroom and say hello! We're a quick drive from Brattleboro, Dover, Greenfield and Athol. But, before you do, please take the time to check out our online reviews to find out what others are saying. Although every experience is unique to an individual, rest assured, we will do whatever we can to earn your business, while providing you with the type of quality service that we hope you will be happy to share, as well!